Popularity of video conferencing has exploded in recent years as hybrid and remote work has transformed the workplace. Interest in remote work continues to increase as a majority of employees prefer the flexibility of working from home instead of working in an onsite office or location. According to the Global Workplace Analytics State of Remote Work 2022 report, the number of workers choosing to work remotely in 2022 rose by 24% from the previous year. 
Video conferencing has allowed enterprise-level organizations to develop more permanent remote work environments. But more advanced digital collaboration tools are critical to remote work success. Video collaboration tools allow companies to meet and collaborate more efficiently with employees, teams and clients no matter where they are located.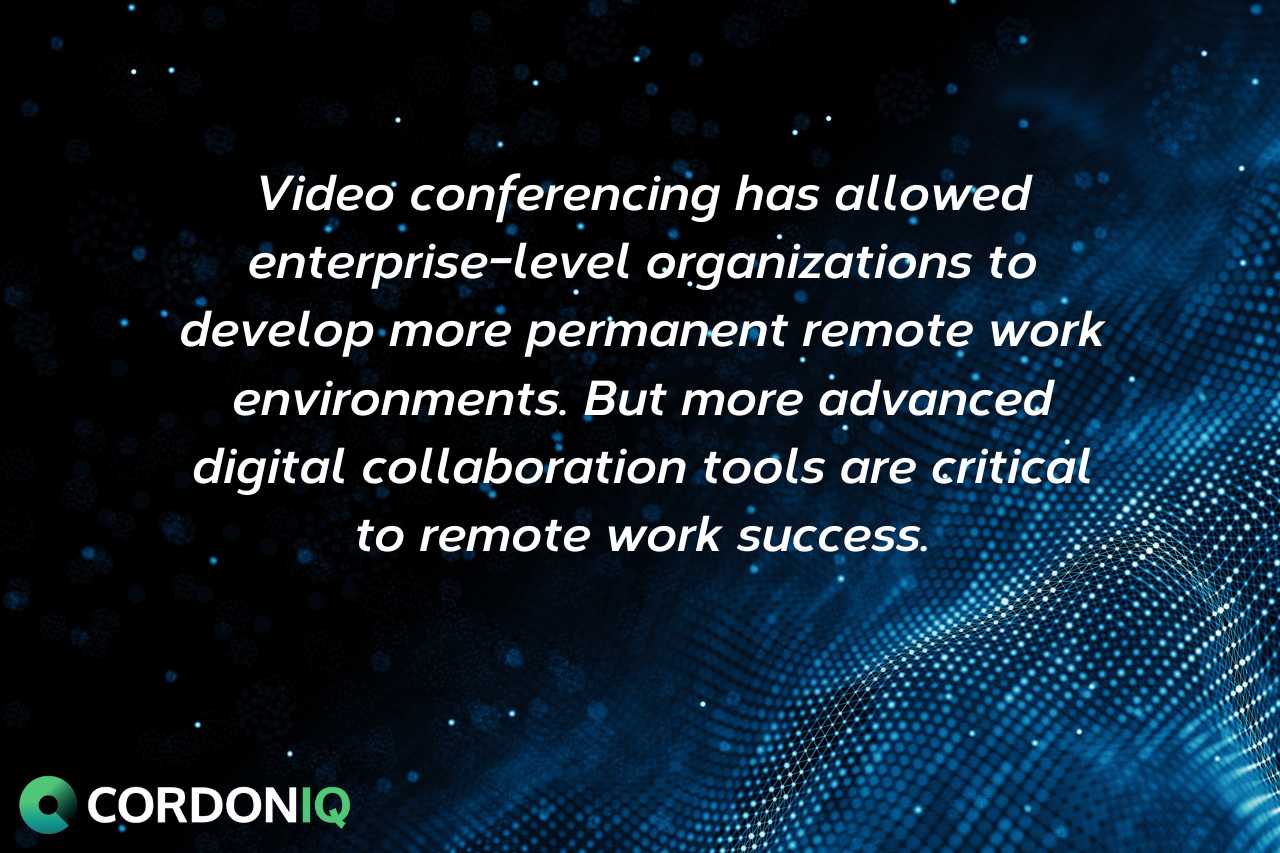 By implementing advanced solutions such as video conferencing platform APIs, enterprises and organizations can ensure that team and client experiences are personalized, engaging, secure, and effective. Organizations incorporate video conferencing for a range of communications and collaborations, from recruiting and hiring to sales meetings, client interactions, and day-to-day planning and work. 
We'll explore the importance and benefits of video conferencing in the workplace, as well as how the technology is used for virtual meetings, business collaboration and communication. 
Importance of video conferencing 
Remote work capabilities are now a differentiator for companies that want to attract employees who prefer working from home even part of the time. But the mere ability to work remotely is no longer enough to attract employees. Individuals are demanding more than a way to simply make a video call. They want advanced tools that will more easily deliver effective, meaningful and fulfilling work experiences. Organizations are recognizing the importance of video conferencing solutions with advanced capabilities for improving workflows and productivity.  
Some of the changes in remote work capabilities need to be made on a cultural level within the organization. As Accenture observed, it will take a strong organizational culture that starts with the company's ability to provide "optimal and 'omni-connected' experiences for their employees, which includes access to robust technology and collaboration tools that may evolve over time … it also requires thinking ahead and designing for people across multiple types of work locations and arrangements."

Enterprise-level organizations need to make deliberate choices for video conferencing software that focus on flexibility and security as well as meeting industry-specific needs. 
How is video conferencing used in the workplace?
In the typical modern workplace, video conferencing software solutions are a foundational tool for collaboration and other remote work experiences. Video conferencing for the workplace involves four main areas: communication, collaboration, education, and presentation.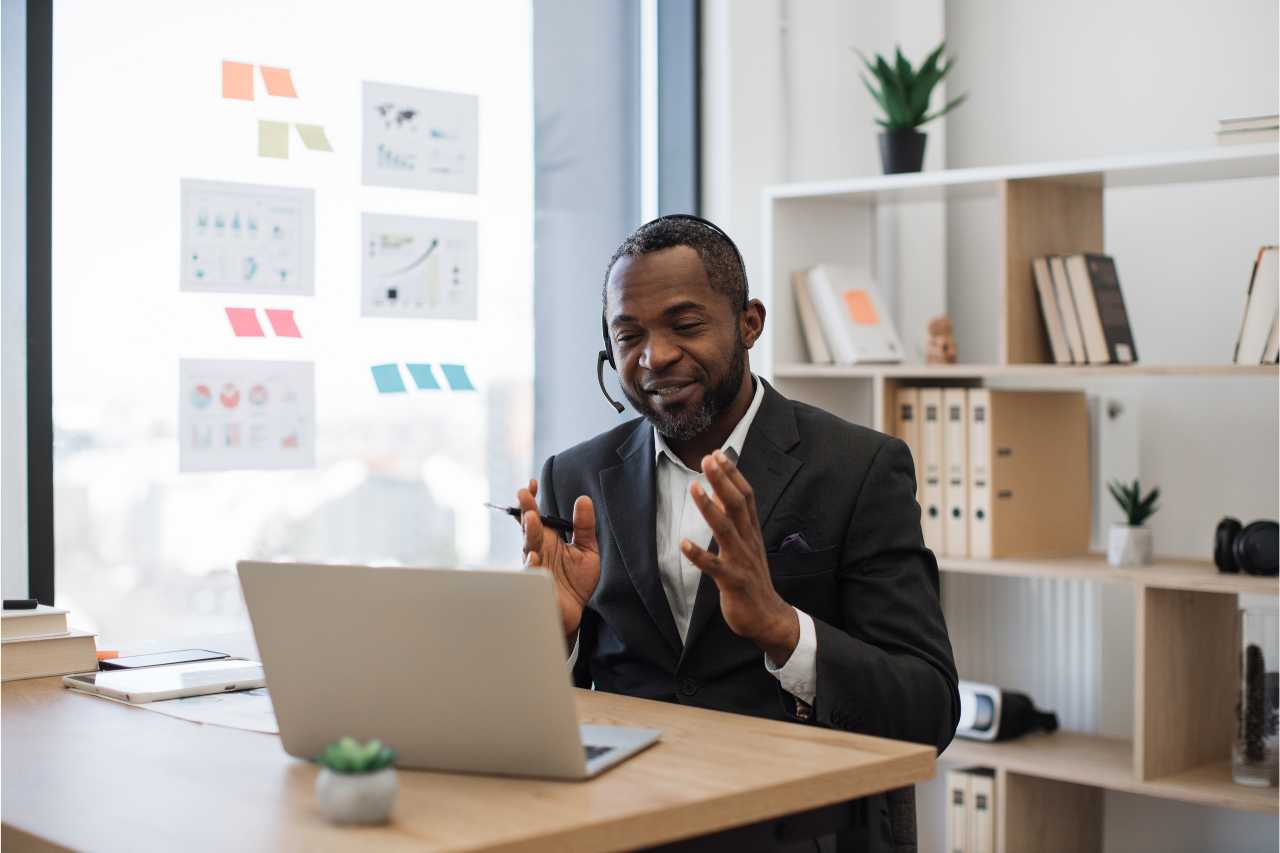 The best video conferencing and collaboration apps help teams create immersive experiences that can be as effective as face-to-face meetings. Many common use cases for video conferencing in the workplace actually result in time and cost savings when compared with typical in-person meetings, conferences or other events. 
Video conferencing, especially when implemented using an advanced integrated platform solution, can deliver engaging, immersive, face-to-face experiences for remote and virtual teams. Some of the main use cases for enterprise and corporate video conferencing include:
Business meetings – such as one-on-one conferences, daily stand-ups, team meetings, corporate or company-wide meetings. 

Client meetings – for client engagement and consultation, document reviews for legal, corporate, financial organizations.

Sales meetings – includes internal meetings, or meetings with partners, clients or prospects.

Presentations – includes product demos, sales presentations, or new service demonstrations.

Collaboration – regular project work, brainstorming, new project onboarding, or project planning.

Seminars – for reaching clients and sales prospects with educational material or to introduce new products and services.

Virtual events – conferences, team-building or other company events. 

Corporate training – for professional development including employee education, continuing education, and certifications.

Onboarding – for partners, employees, new team members or clients.

HR – for recruiting and hiring meetings or retaining personnel.
What are the benefits of video conferencing in the workplace? 
Video conferencing technology and collaboration tools provide better employee, team and client experiences for firms and teams to thrive in today's workplace.
Advanced technology and solutions help meet some of the challenges of remote work, such as collaborating in real-time, secure information and document sharing, or the ability to host large group events. 
Let's take a closer look at some of the key benefits of video conferencing in the workplace, including for enterprise-level organizations: 
Promotes flexibility and efficiency by allowing all teams to connect and collaborate regardless of location. 

Allows firms to recruit from outside a typical commuting distance and provides the ability to build global teams.

Optimizes collaboration between teams, especially when video conferencing is integrated with other business tools and technology, such as sales tools, CRM, and productivity apps.  

Lowers travel and commuting costs, resulting in savings for both firms and employees.

A largely remote workforce results in substantial cost savings for companies in rent, utilities, building maintenance, office supplies, postage, printing, child care, in office food, beverages, and meals.  

Provides more opportunities for employees and team members to attend events without needing to factor in travel.

Allows interactive access to presentations or other sales information during client meetings.

Provides firms with the ability to quickly pivot to remote if there is a sudden need to switch from in-person or on-site to remote work or events.

Makes employee and corporate education and training more flexible, accessible and available to more participants without the need to travel.

Helps deliver more interactive and engaging interactions with clients, building trust and stronger relationships.

Strengthens virtual and remote teams by accessing multiple collaboration tools such as content sharing, web co-browsing features, whiteboarding, annotation, chat and multilingual translations.
However, the range of benefits of video conferencing solutions depends on the collaboration platform. Some basic video conferencing apps aren't equipped with the security, features or flexibility of more advanced digital collaboration solutions.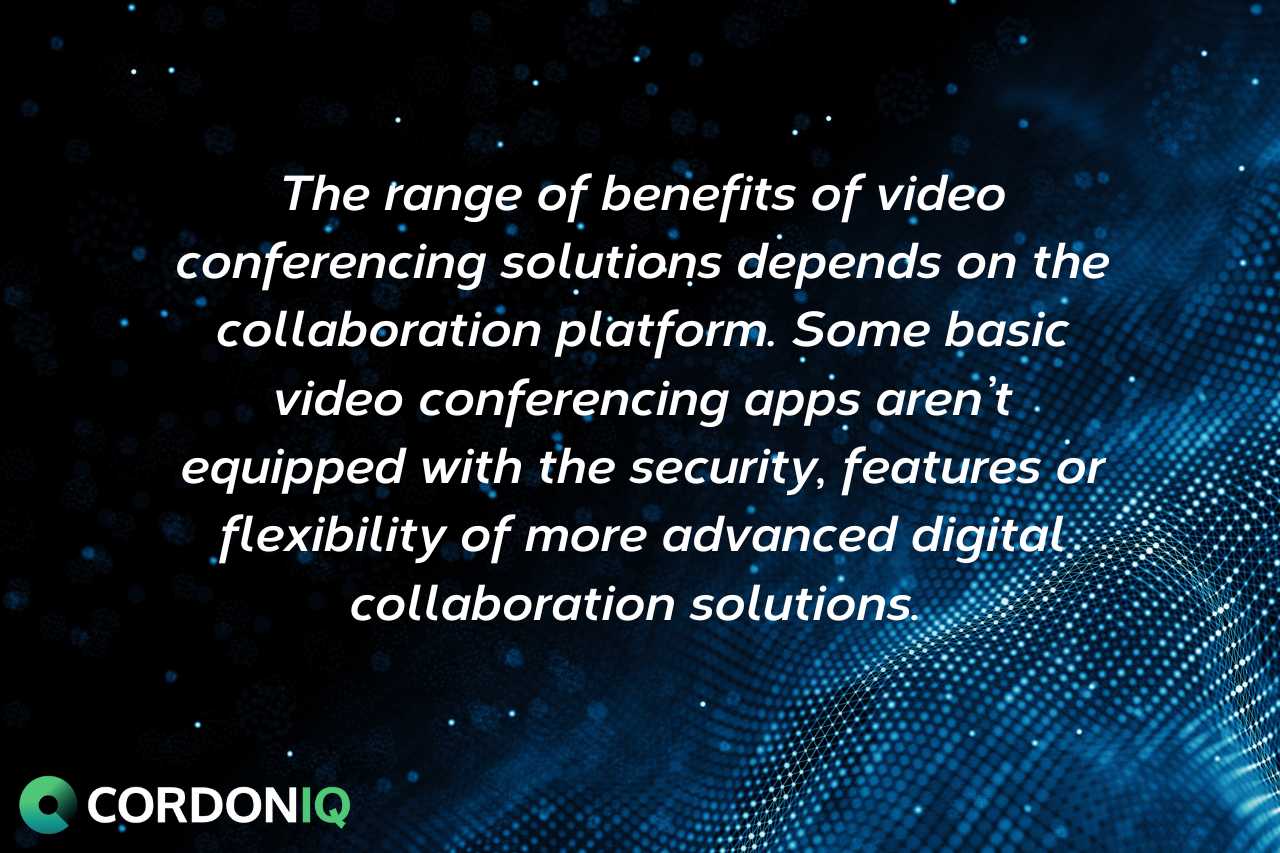 For instance, there is an increased risk of cyber threats when using video conferencing technology that isn't fully secured. Organizations need to make security a priority when choosing solutions because of security challenges associated with some virtual business meetings and events. 
Secure solutions are a necessity for firms and industries that typically handle, discuss, or share private, sensitive, or personal information, confidential documents, content, artifacts, "secret sauce" and other data. Advanced and secure video conferencing is also essential for building trust with clients as well as employees. 
How Cordoniq's secure platform elevates virtual meetings and collaboration 
When considering video conferencing and collaboration solutions, organizations need to consider options that focus on flexible, secure and highly engaging experiences. But it's no longer enough for companies to settle for out-of-the-box legacy video software. Businesses need secure and flexible video collaboration to meet industry-specific needs. 
Cordoniq's secure video collaboration platform solves many of today's virtual and remote workplace challenges including the need to protect privacy, data and other confidential information. 
In addition, Cordoniq's advanced collaboration features help provide the elevated and integrated experiences teams and clients are demanding. Some of the benefits of Cordoniq's platform include:
Private branded and private labeled platform, including private labeled and branded iOS and Android apps in both the App store and Google Play app stores. 

Unique web co-browsing feature that allows teams to easily blend HTML and web applications as a customized and native live collaboration experience.

Capacity to secure client and employee data, artifacts, documents, content, and recordings in the secure environment of your choice.

Capability to control routing of video, audio, shared screens, and other content.

Access to dedicated video collaboration rooms and unlimited rooms that don't expire or use up license count.

Complete admin control of meetings, conferences and events.
Finally,  enterprises and developers have the ability to build a custom collaboration solution with Cordoniq's API-driven platform, using easy-to-implement modules that can be deployed in the environment of your choice.