Enterprises are increasingly focused on the quality of remote experiences for their employees and teams, as long-term remote and hybrid work becomes the norm for many organizations. 
Developing a strong remote work culture is a necessity for companies to attract and retain talent, and employers are taking note. 
A recent study shows that 57% of CIOs said that employee experience is a "key priority" for 2023, with a focus on building a "digital first culture with high-quality interactions." According to the report, three out of five CIOs report their firms will turn to new technologies to improve workers' experiences. As the report noted, "CIOs understand that creating a supportive work environment that fosters enhanced collaboration and productivity is important in attracting and retaining skilled employees."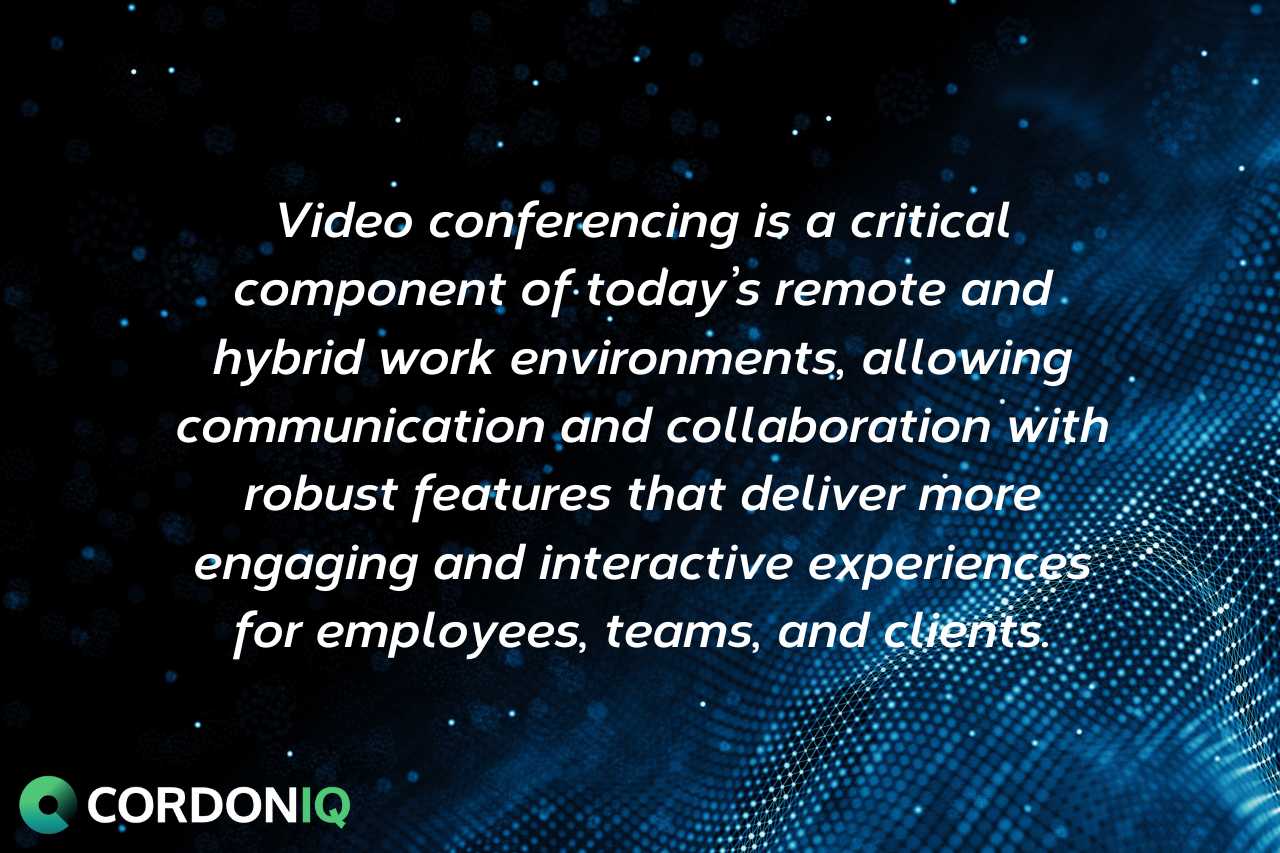 Video conferencing is a critical component of today's remote and hybrid work environments, allowing communication and collaboration with robust features that deliver more engaging and interactive experiences for employees, teams, and clients. Meanwhile, implementing a video conferencing platform API makes it easier to integrate other business tools to create a customized collaboration platform.
Let's explore some of the top features as well as the advantages of advanced video conferencing platforms, including how they can optimize collaboration. 
What are the key features of video conferencing? 
Enterprise teams need video conferencing features that can enhance and elevate the quality of their virtual experiences and interactions. Remote teams need high-quality and effective communications, both synchronous and asynchronous. 
An advanced video conferencing platform gives organizations the tools to create a flexible and collaborative work environment for their teams no matter where they are located. 
Some of the must-have features for enterprise-level video conferencing include the following: 
HD audio and video quality that is reliable across multiple devices and connections. 

Advanced collaboration tools such as annotation, advanced document sharing, whiteboarding, note-taking and sharing web content.  

The ability to make MP4 recordings and store them securely. 

Advanced chat features that are accessible from multiple device types, including desktop computers, tablets, smartphones and other devices. 

Small group breakout rooms and one-on-one conferencing. 

Room options to accommodate different types of functions and collaborations. 

The ability to host large virtual events (i.e., with 500 or more participants). 

The ability to enable private or hybrid cloud hosting options. 

Advanced security features including true end-to-end encryption.
Video Conferencing Advantages 
Video conferencing technology has progressed significantly over the last decade. Even basic internet-based video conferencing alone is a vast improvement from the days when dial-in conference calls were the popular method for running virtual meetings. The ability to add a video component to virtual collaboration was game-changing for remote teams.
However, API-driven video conferencing software platforms bring a wide range of advantages to enterprise teams. Secure collaborations, increased productivity, and more elevated experiences for distributed teams are only some of the advantages today's robust video conferencing solutions bring to them.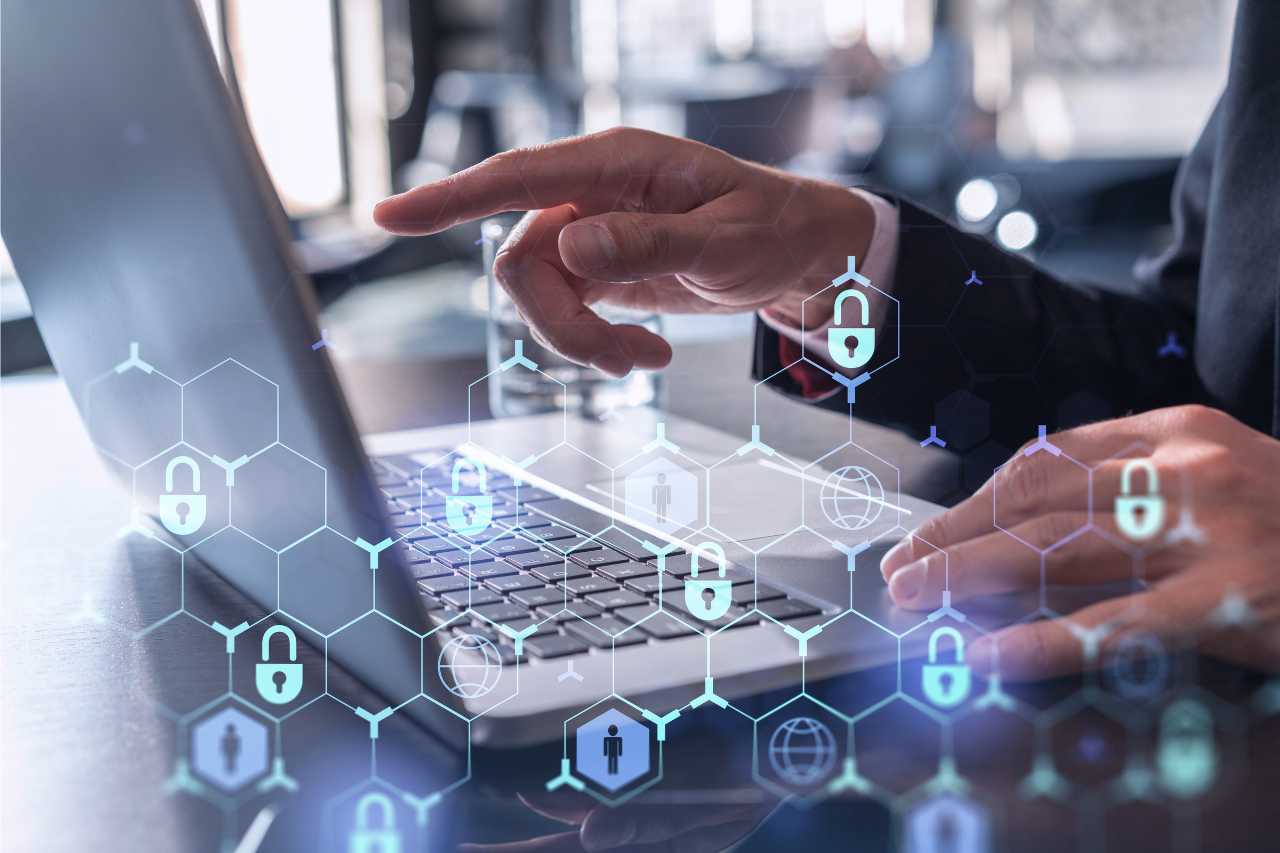 What are the top advantages and some disadvantages of video conferencing?
10 Advantages of Video Conferencing 
Advanced video conferencing platforms can help build an effective hybrid work strategy. They can also help build trust and engagement with virtual clients. Ten of the top advantages of implementing advanced video conferencing platforms include the following: 
Creates opportunities for better engagement with employees and team members with high-quality meetings, events, and other interactions. 

Supports the ability for remote teams to collaborate in real-time. 

Allows distributed teams to communicate effectively regardless of where they're located.

Gives enterprises the opportunity to build truly global remote teams instead of being limited to candidates within commuting distance.  

Eliminates scheduling difficulties when individuals don't have to attend meetings in person. 

Provides the ability to replicate face-to-face communication for meetings, including one-on-one conferences or interviews. 

Streamlines and elevates online training with live sessions that allow collaborative work.

Allows firms to create and manage large corporate events while realizing significant cost savings.

Gives firms the ability to elevate and provide personalized, interactive and engaging experiences with clients no matter where they are located. 

Elevates the recruiting and hiring process from the first interaction. 
What are some disadvantages of video conferencing? 
It's important to recognize that all video conferencing software does not offer the same quality or capabilities as more innovative and secure video conferencing platform API solutions. While popular and widely available, some of the basic or free "out-of-the-box" video calling apps come with disadvantages. Some of the most typical constraints include: 
Lack of security — free video call apps often are at greater risk of being hacked or having a call infiltrated by unauthorized sources.  

Unreliable connections or connectivity.  

Limitations on the number of participants that can attend video conferences. 

Rooms that expire or use up license count. 

Lack of control over meetings or data. 

Requiring firms to store data on public cloud sources that could be compromised.

Time limits for meetings and conferences. 

Limited ability to screen share or collaborate. 

Limited access to advanced features. 
However, using an advanced video conferencing platform will eliminate many of these issues and provide more elevated and secure experiences that protect both data and privacy. 
What is the main purpose of video conference software?
The main purpose of video conferencing software is delivering easy collaboration for enterprise teams and clients. Video conference software needs specific features to create engaging, interactive, high quality and inclusive experiences for all participants regardless of where they are located.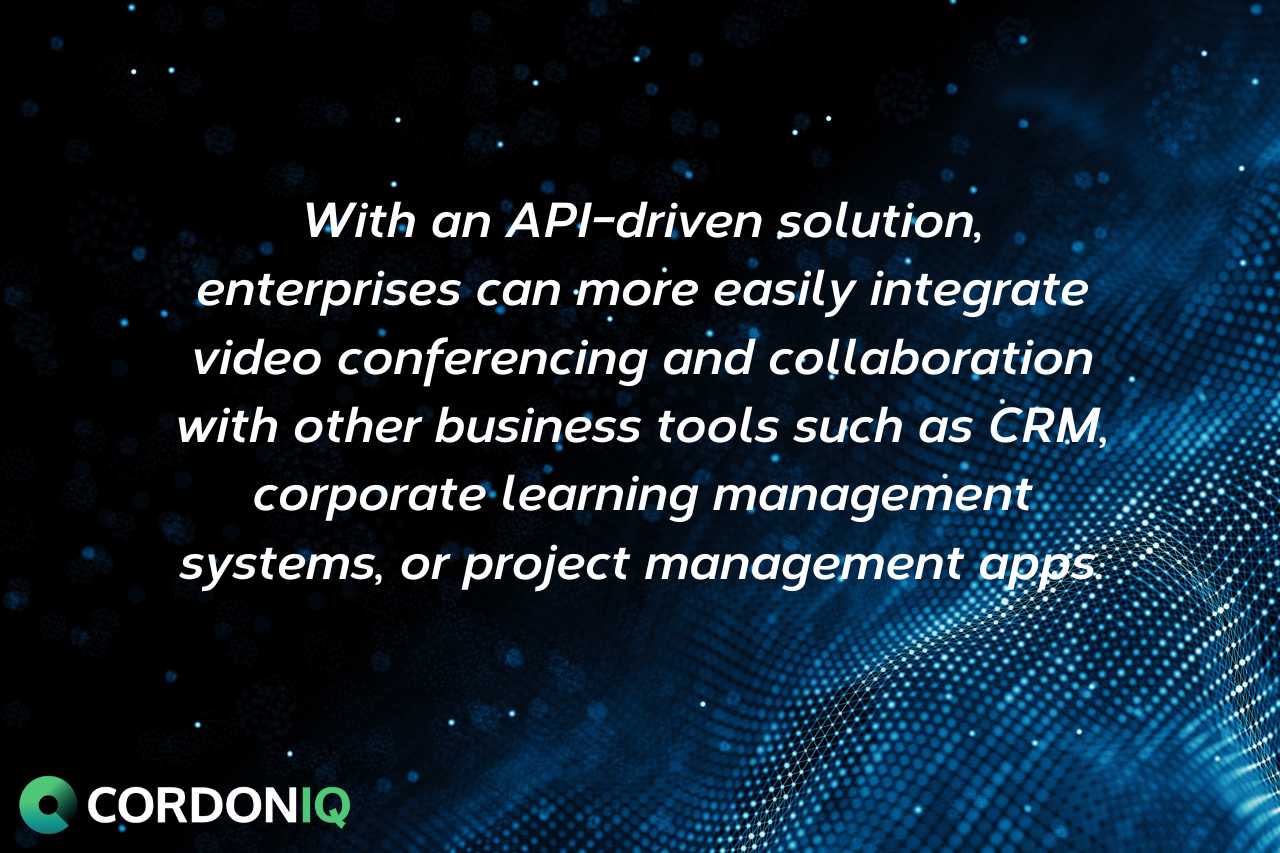 Enterprises and organizations that need customized video conferencing and collaboration should consider an advanced and secure video conferencing platform API solution. With an API-driven solution, enterprises can more easily integrate video conferencing and collaboration with other business tools such as CRM, corporate learning management systems, or project management apps. With an advanced video conferencing platform API solution, enterprises can build a remote collaboration solution to fit their specific needs. 
Key Features of Cordoniq's video conferencing platform 
Cordoniq's enterprise-class video conferencing and collaboration platform-as-a-service model is entirely API-driven to interact with virtually anything in your tech stack. Purpose-built for enterprises and industries that require customized and highly secure video collaboration, Cordoniq's platform is developer-centric with IT tools and controls needed for integration. 
Cordoniq's advanced collaboration features for enterprise teams include: 
HD audio and video on all devices and operating systems.

Multilingual chat functionality in 70+ languages plus additional image support, HTML export, and emojis.

Whiteboarding, annotation, markup tools, chat, screen sharing, and document sharing in over 70 format types.

Share Web & Browser Content to display web-based applications and videos within the meeting interface.

Ability to deploy modules to your own private cloud, hybrid cloud, existing data centers or any major cloud providers.

Ability to white label platform for your brand.  

Complete control over data and privacy of employees, clients, and other users.

Total control over meetings and conferences.

Breakout rooms, unlimited-use rooms, unlimited rooms, perpetual rooms, and an unlimited attendee gallery view.
Learn more about Cordoniq's advanced collaboration platform for developers
Cordoniq's robust platform can enable custom API integrations, private-branded solutions, and custom features development. Developers can create a purpose-built user experience including UX customization, APIs, custom privacy and security features, assisted private roll-out and more.
Cordoniq is built with true end-to-end security, with the latest TLS standards up to and including TLS 1.3 on all platforms.
Learn how Cordoniq can work with your team to build a customized platform to meet your collaboration goals.