Video conferencing is essential for teams and clients 
Video conferencing is now considered a permanent essential tool for organizations for meeting communications and collaboration goals. Nearly every industry has found ways to use advanced video conferencing for face-to-face virtual meetings, discussions, and sessions – financial services, consulting, training, healthcare and more. Businesses are using video conferencing to create immersive experiences with employees and clients alike. 
There are various benefits of video conferencing in the workplace involving areas from cost and resource savings to improved productivity. But one of the top advantages? Having the right technology in place for video conferencing and collaboration helps organizations optimize their hybrid work environments – a critical differentiator for today's companies.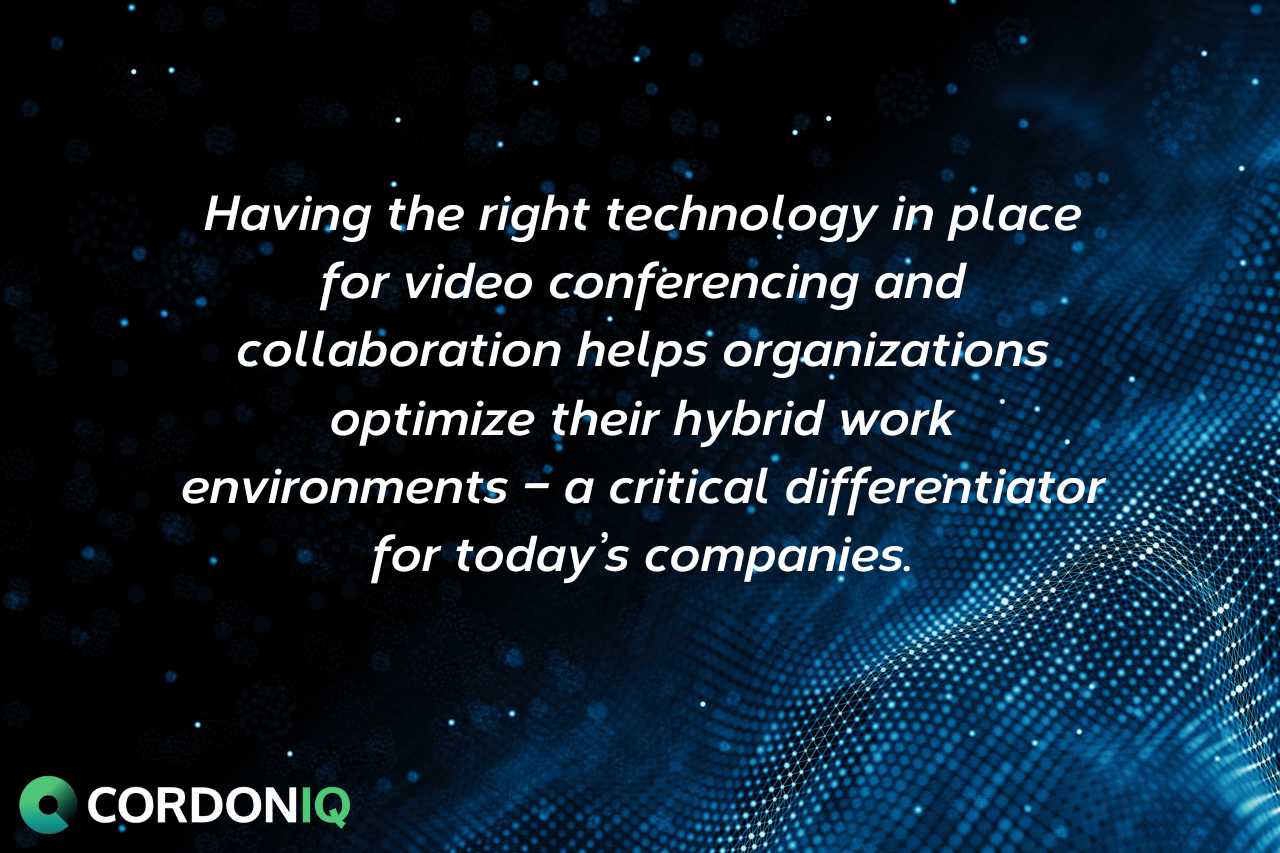 Video conferencing advantages for today's organizations 
Advanced video conferencing and collaboration solutions carry a number of significant advantages for organizations regardless of industry.  Some of the top advantages of advanced collaboration solutions include the following: 
Provides more ability to deliver face-to-face experiences for clients and teams. Video conferencing provides more dynamic meetings, allowing participants more visual contact with individuals, team members and clients. Even virtual face-to-face conversation builds rapport and relationships better than a phone call alone. 

Gives much-needed

flexibility in work schedules to accommodate the needs of employees

and teams. With video conferencing and collaboration solutions, teams can more readily participate in events and meetings, connecting no matter where distributed teams are located. Video conferencing allows teams across different time zones to connect more easily.  

Builds a versatile solution for delivering experiences remotely. Video conferencing is widely used for many business use cases, including employee or client onboarding, education, sales demos, training, presentations, and corporate events. 

Increases the capacity to scale a business. Organizations can leverage video conferencing and collaboration in order to enter or service additional markets via remote teams. Video conferencing and collaboration can reduce the need for in-person client meetings, so distance and travel are less of a barrier. 

Saves on employee travel, as well as real estate leasing and related expenses. With virtual teams, companies can save on utilities, facilities, and building maintenance along with other in-office expenses. 

Delivers more value by developing and supporting stronger customer relationships through more dynamic communications, experiences and interactions. 
Are there disadvantages to video conferencing? 
Some disadvantages of video conferencing become clear when using general purpose or "out-of-the-box" video conferencing apps. There are considerable differences in quality between an advanced video collaboration solution and standard video meeting apps. Some challenges with "out of the box" apps include the following: 
Lack of privacy. Some generic conferencing solutions

fail to keep your meetings

, discussions and shared content private and may even use your data for other purposes. 

Less security. Video meeting apps often don't support or provide stringent cyber security standards needed for many businesses and industries for compliance requirements.  
Inferior and less immersive experiences, leading to ineffective work collaboration and client interactions. 
Not enough flexibility. Standard apps don't offer ways to integrate other business and productivity tools in a seamless way. This results in wasted time and meeting fatigue for participants, especially those who need to attend sessions multiple times a day. 
Uneven quality depends on the location of the participant, or devices or operating systems. Video meeting apps don't typically offer higher quality performance on every type of device.
Limited features that don't provide the functionality many businesses need. Standard video meeting apps can't be customized to improve experiences. 
However, with advanced, API-driven video conferencing and collaboration platforms, many of these challenges can be managed and solved. Advanced video collaboration solutions allow organizations to create and deliver more immersive and effective experiences to their teams and employees. 
6 key benefits of advanced video conferencing and collaboration  
By implementing advanced video conferencing and collaboration solutions, organizations can create the type of customized and personalized collaboration experiences that employees and clients expect when they interact with businesses.
Here are six of the main benefits of an API-driven, integrated video collaboration platform: 
Providing clear and transparent privacy policies that keep you in complete control of your meetings while safeguarding your discussions, data and content. 

Creating live, immersive experiences for live video collaboration and events through techniques such as gamification programming methods that leverage the GPU for maximum quality video.  

The ability to integrate a collaboration solution with top business and productivity tools through APIs.

The use of advanced programming methods is more efficient, which promotes green, or more sustainable, technology. 

An advanced remote and hybrid environment can help businesses

attract and retain top talent

, while providing access to a wider pool of applicants without geographical limits. 

API-driven collaboration platforms often provide more advanced security protection, a must in today's climate of

rapidly evolving cyber threats

.
Cordoniq's advanced video conferencing and collaboration technologies  
Cordoniq specializes in building live, interactive and customized collaborative experiences that integrate with your existing product and service.
Your privacy is one of Cordoniq's top priorities. Cordoniq gives you the rights to implement your own terms of service, license agreement, and privacy policy inside your user experience. 
Additional key features of Cordoniq's collaboration platform  include: 
Scalable video and audio encoding

Screen, multimedia and true web content sharing

Gamified solution that leverages the GPU in computers and mobile devices for a more immersive experience

Desktop and mobile (Intel, ARM, Neon, DirectX, Metal, Vulkan)

Complete control over privacy and security

Comprehensive API integration with top business and productivity tools

Public or private cloud installable modules and containers

OpenAPI support including Java and .NET/Visual Studio/JavaScript and Web developers
Learn more about Cordoniq's unique features.