Video conferencing software is a vital tool for the hybrid remote workplace, spanning many industries and sectors. The key benefits of video conferencing in the workplace involve interactive and immersive communication and collaboration for teams, employees and clients. 
The use of video conferencing and collaboration software also saves time and resources for organizations, as these solutions can minimize the need for many in-person meetings and events.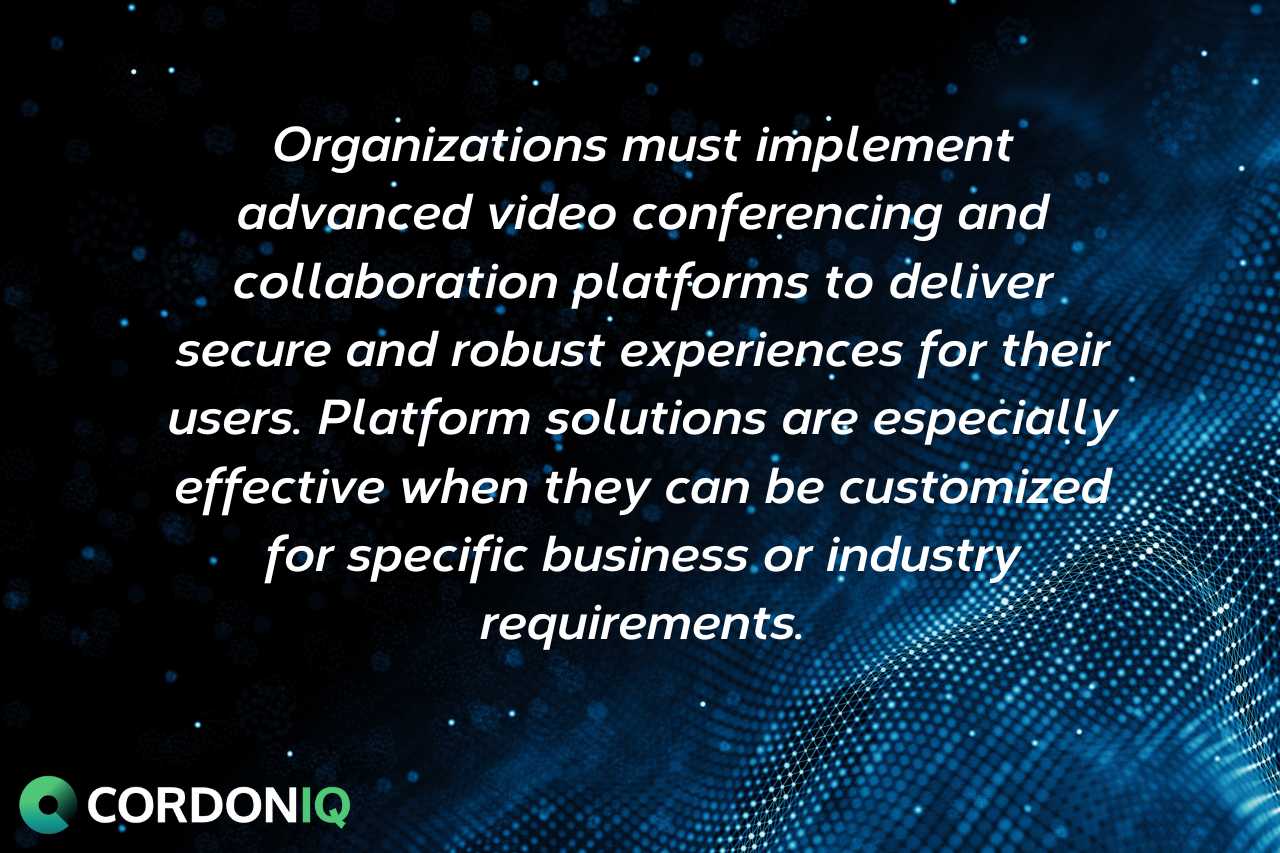 Organizations must implement advanced video conferencing and collaboration platforms to deliver secure and robust experiences for their users. Platform solutions are especially effective when they can be customized for specific business or industry requirements. 
In this blog post, we'll explore three of the top uses and some advantages of video conferencing and collaboration software for organizations. 
Three top uses of video conferencing in enterprise organizations 
In a remote or virtual workplace, video conferencing works for many types of interactions between teams, individuals and groups.  Advanced video conferencing offers several possibilities for distributed teams to communicate and interact with each other, no matter where each team member is located.
Three top uses of video conferencing include the following types of sessions and experiences:
Business Meetings

. Organizations find video conferencing tools effective for various meetings for teams, clients, partners, and prospects, as well as for corporate events. 

Education and presentations.

Advanced video conferencing and collaboration software is a highly effective solution for internal corporate training, onboarding, certification training, webinars, sales seminars and presentations, HR training, as well as conference training and seminars.

Collaboration.

Organizations are using video collaboration software for effective collaboration among individuals, teams, and partners for one-on-one sessions, brainstorming sessions, and collaboration sessions with clients. 
Enterprise-level organizations require top-tier security and advanced video conferencing and collaboration software to build trust with their teams and clients while delivering engaging experiences. 
Some disadvantages of consumer-grade video conference software 
Consumer-grade video conference software does not offer the features or benefits that enterprise-level organizations need for an optimal remote or hybrid workplace. While general-purpose video conference software may work for basic meetings, most one-size-fits-all video conference software apps don't offer the customization and high level of security that firms in many industries need. 
Some of the main disadvantages of general video conference software include: 
Lack of collaboration tools

Limited number of rooms or participants

Lack of security features 

Limited or no customization available

Risks to privacy and data 

Inflexibility for hosting large events

Limited or no app integration capabilities
Advanced video conferencing and collaboration solutions offer more value to enterprise organizations and allow them to deliver the types of experiences that will meet the expectations of their teams, employees, and clients. 
What are five benefits of advanced video conferencing software?
The key benefits of more advanced video conferencing solutions include the ability to leverage enhanced features and enabling customizations to suit the requirements of each business. 
Five of these main include the following:
Substantial cost savings. By enabling video conferencing and collaboration for meetings, work collaboration, events and other experiences, businesses can dramatically lower their costs for travel, meals, rent, utilities, and other expenses related to in-person, in-office events. 
Flexibility and scaling. Advanced video conferencing solutions can be adapted to meet the exact needs of organizations that run a mix of meetings, events, or sessions, especially those that involve large numbers of participants. 
Build stronger relationships. With video conferencing solutions that are secure and of superior quality, organizations can consistently deliver better experiences for their teams and clients. Advanced security features with video conferencing can also build trust with clients when sharing or discussing confidential information. 
Extended collaboration tools. Advanced tools, including document and content sharing features, can increase productivity and create a better work experience for team members. 
Streamlined experiences with API integration. Video conferencing and collaboration solutions that are integrated via application programming interfaces (APIs) offer less friction, resulting in a more streamlined user experience.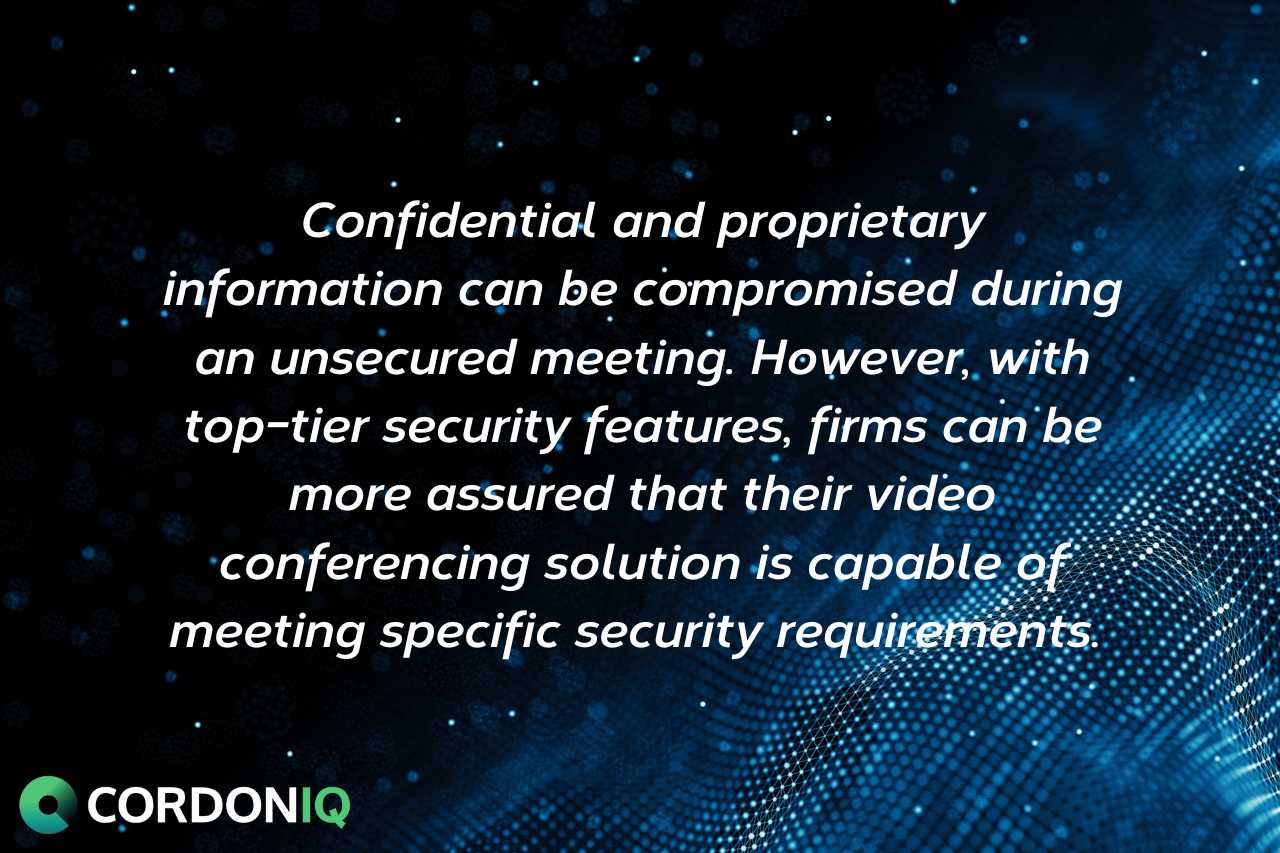 Finally, the most comprehensive video conferencing and collaboration solutions also offer extra security features that typically are not available with basic video conferencing software. Firms in industries that handle confidential data (e.g., intellectual property, mergers and acquisitions, R&D, IPO information), need to be prudent when conducting online meetings. Confidential and proprietary information can be compromised during an unsecured meeting. However, with top-tier security features, firms can be more assured that their video conferencing solution is capable of meeting specific security requirements. 
Explore the advantages of Cordoniq's video collaboration platform 
Cordoniq's API-driven video collaboration platform includes a number of advanced features that your organization can use to build a secure and customized solution. 
Some of the advantages of implementing Cordoniq's platform include:
Customized security that can go up to and beyond U.S. military-grade level. 

Robust developer tools to allow rapid integrations with other business and technology tools.

Complete admin control over privacy and routing of your video, audio, recordings, shared screens, documents and files. 

Access to advanced collaboration tools that deliver live and immersive experiences. 

Flexible room options to meet your organization's exact needs, including unlimited rooms options to maximize collaboration opportunities.

Private branded and private labeled platform, including for iOS and Android apps in both the Apple App store and Google Play app stores. 

Unique web co-browsing feature that allows teams to easily blend HTML and web applications as a customized and native live collaboration experience.