Companies are recognizing the advantages of their hybrid workplaces now that they have become the norm. Businesses are reporting better talent attraction and retention, as more employees globally prefer a hybrid work arrangement.
Hybrid and remote workers are also having better work experiences. According to a recent study from Gallup, "Exclusively remote and hybrid employees tend to have significantly higher employee engagement than on-site workers".
The Gallup study also observes some of the key challenges of hybrid work, including disrupted work processes and less than adequate collaboration and connections. As a result, it's imperative for organizations to create an effective hybrid work strategy. 
A key component of any hybrid work strategy is providing employees with the right tools so that they can collaborate with ease and cultivate connections with their teams. Incorporating advanced video conferencing software is critical for organizations as a foundational tool for an effective hybrid work strategy.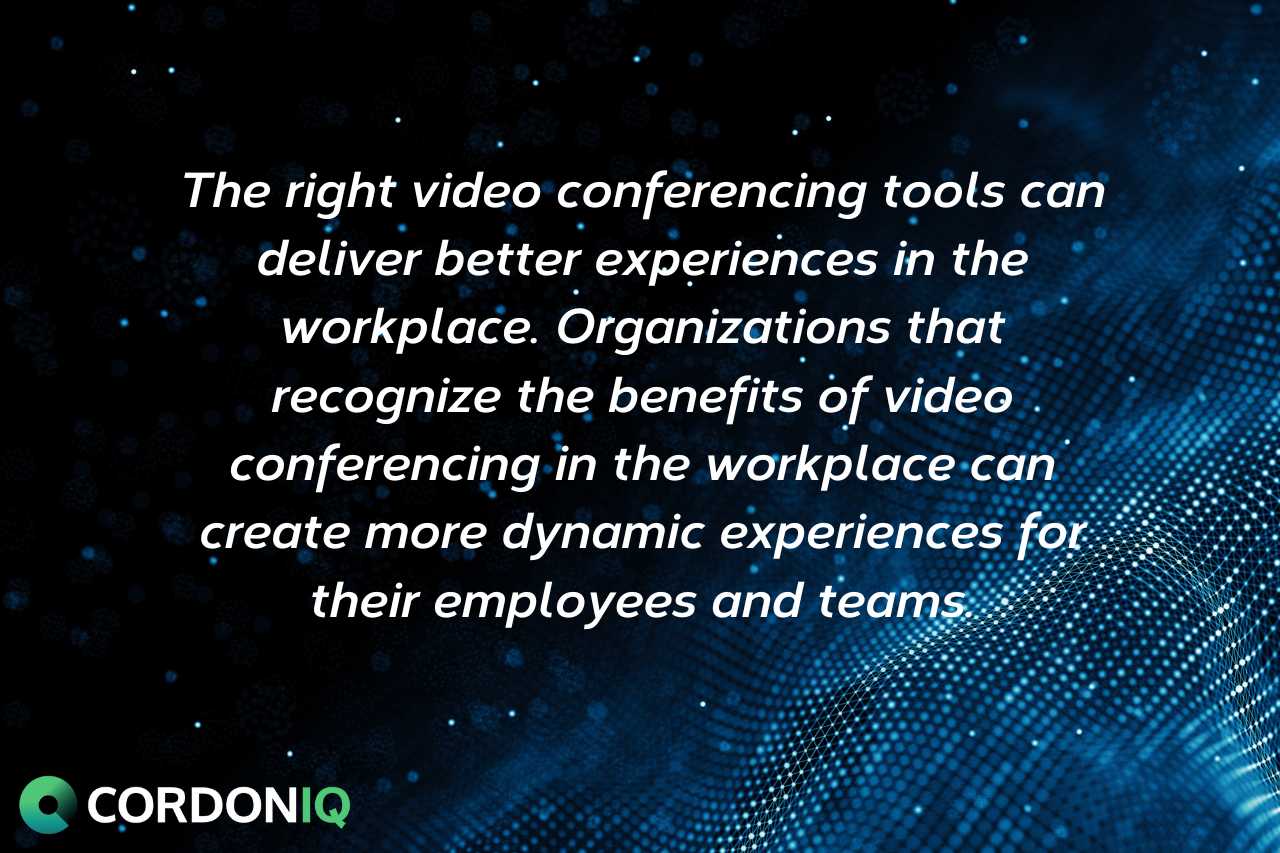 The right video conferencing tools can deliver better experiences in the workplace. Organizations that recognize the benefits of video conferencing in the workplace can create more dynamic experiences for their employees and teams. Robust and secure video conferencing solutions give employers the opportunity to solve the main challenges associated with hybrid work. 
How is video conferencing used in business?
Video conferencing software is a requirement for modern businesses in their communications and collaboration efforts. Interactions between departments and various team members depend on video conferencing solutions. 
The key use cases for video conferencing in business include employee interactions such as: 
Talent recruiting and hiring processes

Employee training and education 

Business and team meetings 

Collaborative work 

Team building events

Remote IT support

Call Center support
By incorporating an advanced video conferencing platform into their overall technology stack, organizations can build an integrated collaboration solution that deliver engaging and dynamic experiences. 
Video conferencing can also improve teamwork by supporting effective and engaging virtual work through sharing and collaborating on content, documents and reports, and by holding events. Meeting one-on-one or in small groups on a daily or weekly basis via video conferencing solutions can help employees and teams build a rapport with each other, no matter where they are located.
Video conferencing also allows distributed teams to participate in experiences that can help build team unity and foster relationships.
What are five benefits of video conferencing in the workplace?
Video conferencing gives businesses the advantage of flexibility and versatility needed for an effective hybrid work strategy. The main objectives of video conferencing solutions include creating hybrid work experiences that will help increase productivity, advance employee engagement, and improve teamwork.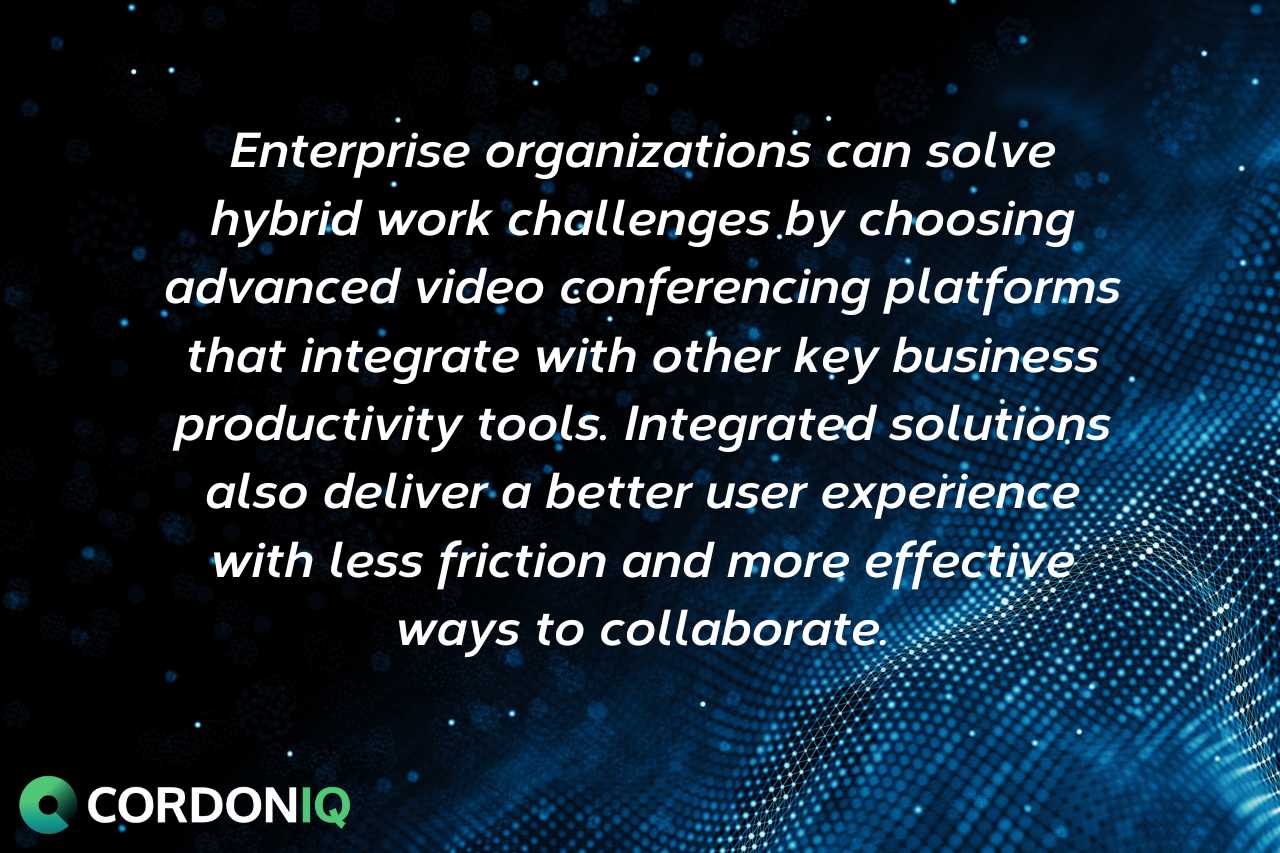 Enterprise organizations can solve hybrid work challenges by choosing advanced video conferencing platforms that integrate with other key business productivity tools. Integrated solutions also deliver a better user experience with less friction and more effective ways to collaborate. 
The top 5 benefits of advanced video conferencing tools in the workplace
Delivering and supporting effective work collaboration among team members, including individuals, small groups and large groups

A more robust user experience for employees and teams through immersive, face-to-face events and better integrations of productivity tools

Expanding both the talent pool and job possibilities by eliminating the need to recruit talent from a specific geographical area so potential employees have more opportunities available

The ability to offer advanced virtual training and education with dynamic interactive sessions

Saving employees both time and costs associated with commuting to an office, while corporations save on their real estate footprint
How Cordoniq video collaboration software can help build an effective hybrid workplace strategy 
Cordoniq can help your organization build and implement an effective hybrid workplace strategy.  With advanced collaboration features and the ability to build a customized platform, Cordoniq improves your UX with dynamic and highly engaging integrated experiences. 
Some advanced features of Cordoniq's platform include:
Unique web co-browsing feature that allows teams to easily blend HTML and web applications as a customized and native live collaboration experience

Ability to display more video "faces" during events and conferences

Video with superior quality resolution and FPS (frames per second)

Smoother quality of real-time rendering

Robust chat features including multilingual functionality – including character sets – in over 70 languages, along with support, HTML export and emojis

Access to dedicated video collaboration rooms and unlimited rooms that don't expire or use up license count