Video conferencing software is a key tool that allows organizations to implement remote and hybrid work environments for their employees, teams, and clients. There are myriad benefits to video conferencing in the workplace, including efficiency, flexibility and various cost savings. 
With advanced video collaboration platforms, enterprise firms and organizations can meet some of the complex challenges of virtual and remote work, such as real-time live collaboration and events. Organizations can provide more elevated user and client experiences with advanced software collaboration tools.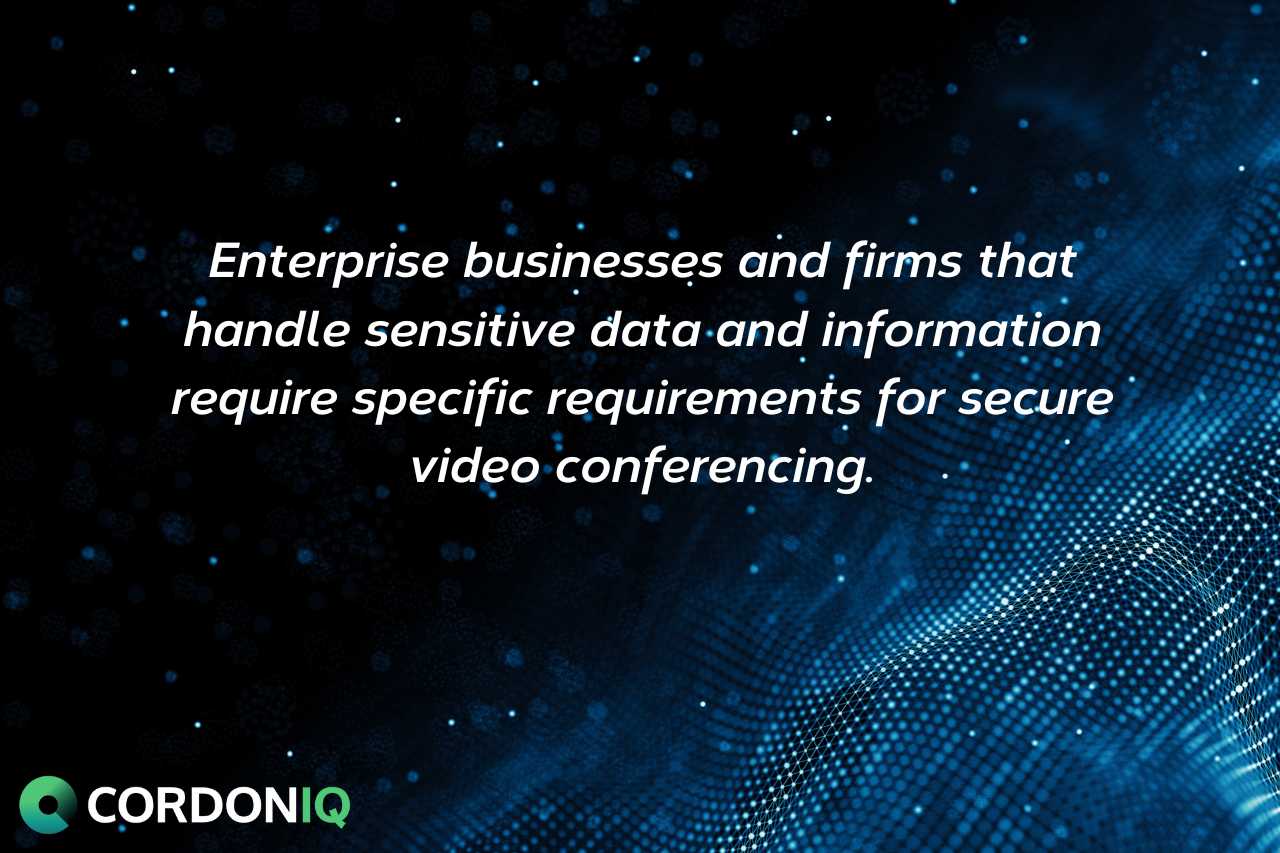 But enterprise businesses and firms that handle sensitive data and information need specific requirements for secure video conferencing. Video conferencing software solutions must be secured and organizations should follow practices to mitigate risks from hackers and other malicious actors. As a result, implementing secure video conferencing software provides several advantages to firms in a number of industries. 
Secure video conferencing advantages 
Secure video collaboration solutions are essential for enterprise organizations. Implementing secure practices for using video conferencing tools is one segment of an overall cybersecurity strategy – a key priority for today's organizations. 
Advanced video conferencing tools with more comprehensive security features carry several advantages, including a greater ability to protect data and information from hackers. More advanced security features on some platforms also allow firms to create customized security practices based on the specific requirements of their industry or client. 
If video conferencing tools are infiltrated by malicious actors, the stakes and risk are high. In 2022, the global average cost of a data breach was $4.35 Million, according to a study from IBM. Along with privacy breaches, data at risk from cyber attacks on video conferencing includes financial information, personally identifiable information, confidential client information such as trade secrets and even recordings of conversations. There are also related costs to data breaches including a loss of client and employee trust, as well as financial losses and difficulties with insurance. 
Five Key Requirements for Secure Video Conferencing
Here's a closer look at five key requirements for using video conferencing software to secure virtual meetings, events, presentations, and webinars. The leading tips and best practices involve various departments and teams along with collaborative efforts among different members of the organization.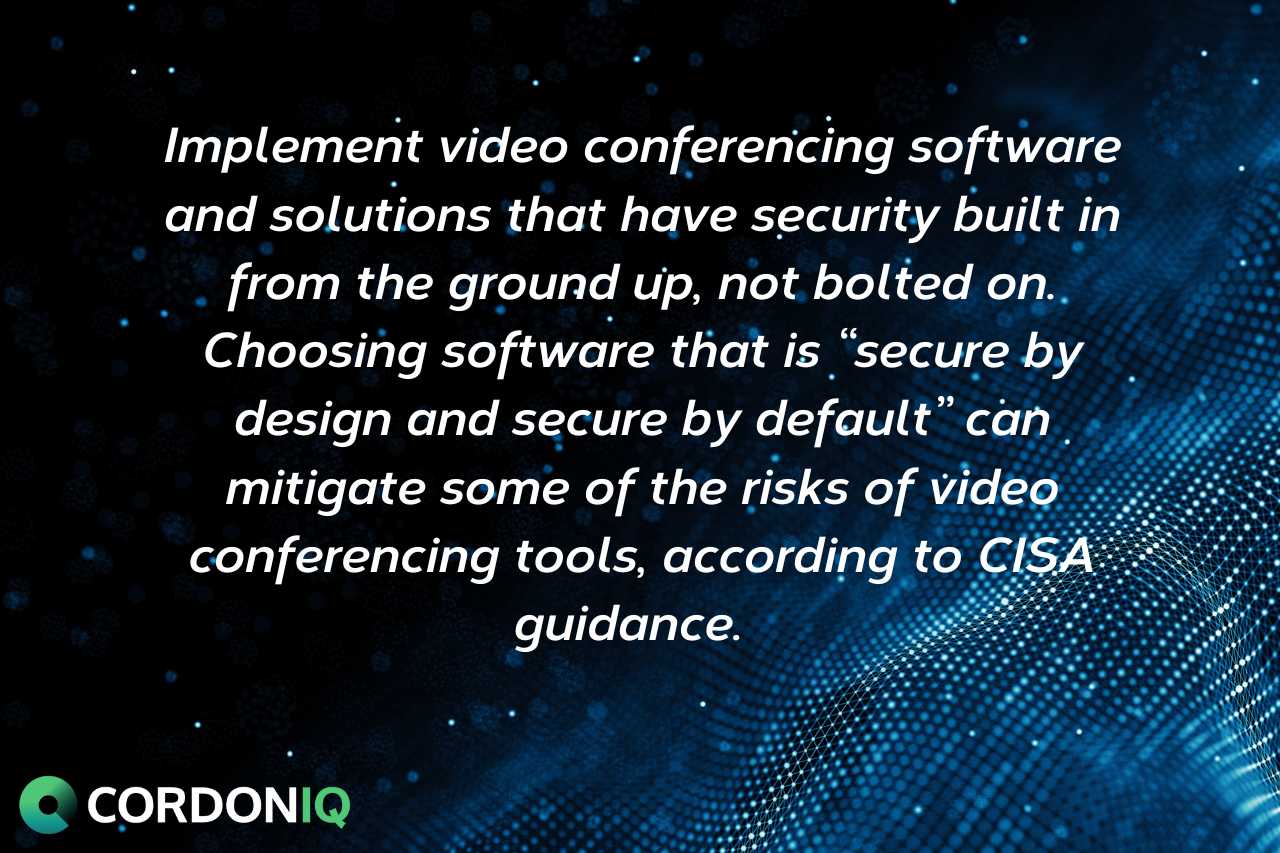 Here are five top tips for secure video conferencing:
1. Establish clear rules and guidelines for devices and connections.
Secure devices and connections have emerged as critical cybersecurity challenges in recent years. Remote work has widely expanded the use of devices and network connections that aren't always secure. Employees need to be clear on how to implement secure devices and connections.
2. Implement video conferencing software and solutions that have security built in from the ground up, not bolted on.
Choosing software that is "secure by design and secure by default" can mitigate some of the risks of video conferencing tools, according to recent CISA guidance.
3. Ensure that the organization's complete software tech stack is secure.
When integrating other apps, tools or to a video collaboration platform, be sure to follow guidelines for secure API integrations. Consider video collaboration software with maximum security protocols incorporated into the solution.
4. Maintain strict control of meetings, including using specified start times and waiting rooms.
Be sure to require passwords and verify attendance at every meeting. Limit access to features such as screen sharing, document sharing, links, etc. It is also prudent to limit chat functions in some cases.
5. Use the maximum encryption available for meetings, conferences, and events.
Establish a culture of security that starts with a top-down approach. To make security effective, practices must be initiated and supported by leadership in the organization. Further collaboration among departments is a must to make security a priority. The organization should also promote cybersecurity aware for their employees. 
Cordoniq video collaboration delivers privacy and security far beyond just encryption
Cordoniq provides the collaboration tech stack that is used by the Dept. of Defense so they can operate a secure distance language learning school that serves multiple branches of the U.S. Military.
With Cordoniq, the implementer can choose how and where the backend services are provided.  They can choose whether they use the public cloud, their own private cloud or even their own private network.  
The solution goes beyond typical off-the-shelf conferencing products and delivers:
Installable containers for Linux and Windows server

Private cloud storage of shared content, meeting recordings

Custom SSL certificates and wildcard domains

Control over cipher restrictions and TLS level for encryption

Consistent encryption across all devices (including older ones)

Complete control over the experience via APIs

Privacy over how and where user data is retained

Unlimited meeting rooms

Failover, load balancing and elastic scale