What is web conferencing?
Web conferencing refers to any type of live online meeting, conference, webinar or event. For modern firms, web conferencing is indispensable for conducting business in today's hybrid and remote world.
A recent study noted that creating an optimal hybrid work environment is one of the top 12 challenges of CIOs today.  Choosing the correct tools is a key step in creating a hybrid environment that works for employees as well as partners and clients. 
What are some web conferencing tools? Not all web conferencing tools carry the same benefits. General-purpose web conferencing tools do not typically offer the features needed for the ideal remote work environment.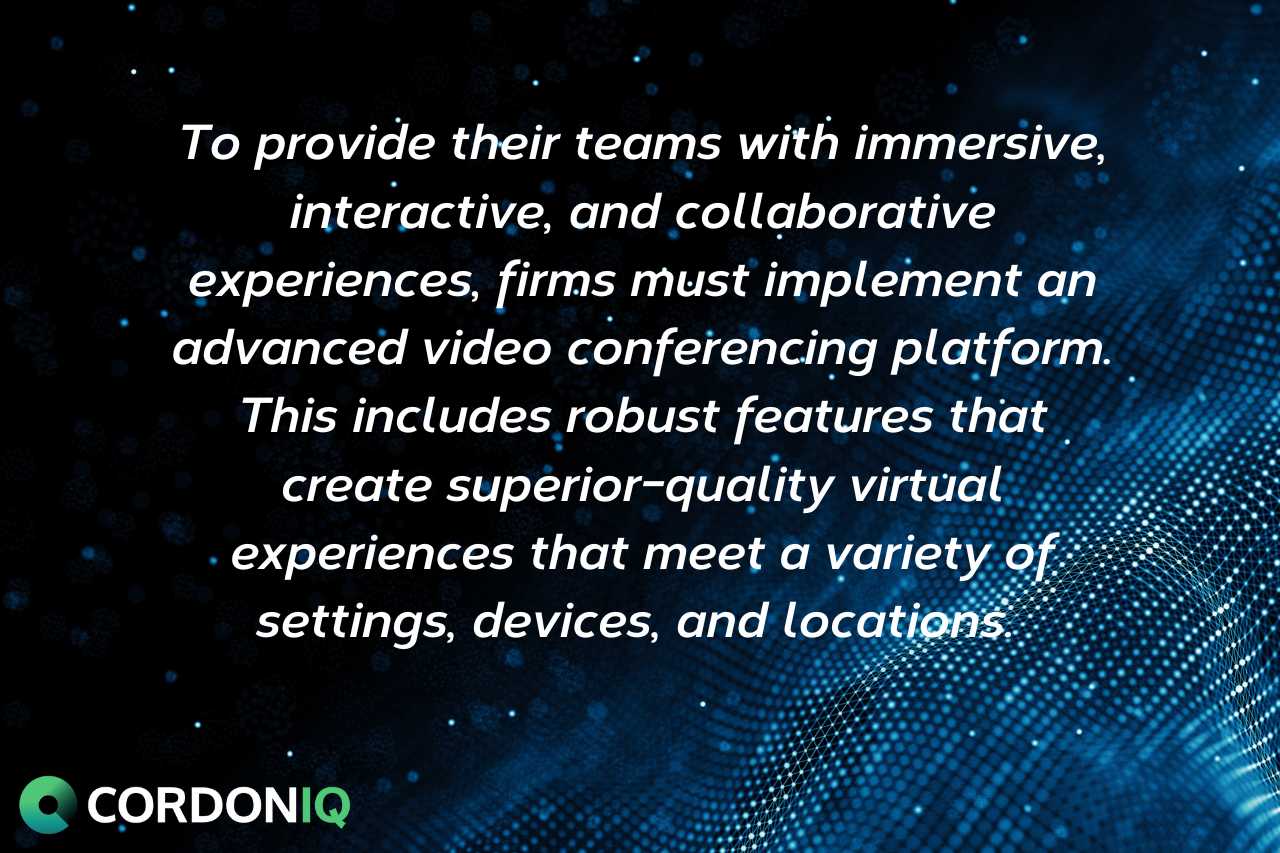 To provide their teams with immersive, interactive, and collaborative experiences, firms must implement an advanced video conferencing platform. This includes robust features that create superior-quality virtual experiences that meet a variety of settings, devices, and locations. 
Let's take a closer look at some of the typical features of advanced video conferencing tools and some examples of how they work for enterprise firms.
What are features of advanced video conferencing?
To be effective, web conferencing tools must incorporate specific features that are found in advanced video conferencing solutions, such as integrated platform solutions. 
These solutions are equipped with capabilities that allow organizations to conduct a range of meetings and events as well as collaborative work. Some core features that advanced video conferencing solutions provide include:
High-definition audio and video that are adaptable to various operating systems and devices.

Ability to securely share files, content, screens, and apps. 

Access to annotation tools such as whiteboards.

Chat and messaging tools that support multiple languages.
Certain industry sectors such as financial services, legal, insurance, government services, IT and communication require additional levels of security to protect the privacy and data of their clients and partners. Advanced security features include:
True end-to-end security, with the latest TLS standards up to and including TLS 1.3 on all platforms.

Advanced controls that limit access and routing of video, audio, recordings, shared screens, documents and files.

The ability to operate video collaboration in a private or hybrid cloud environment.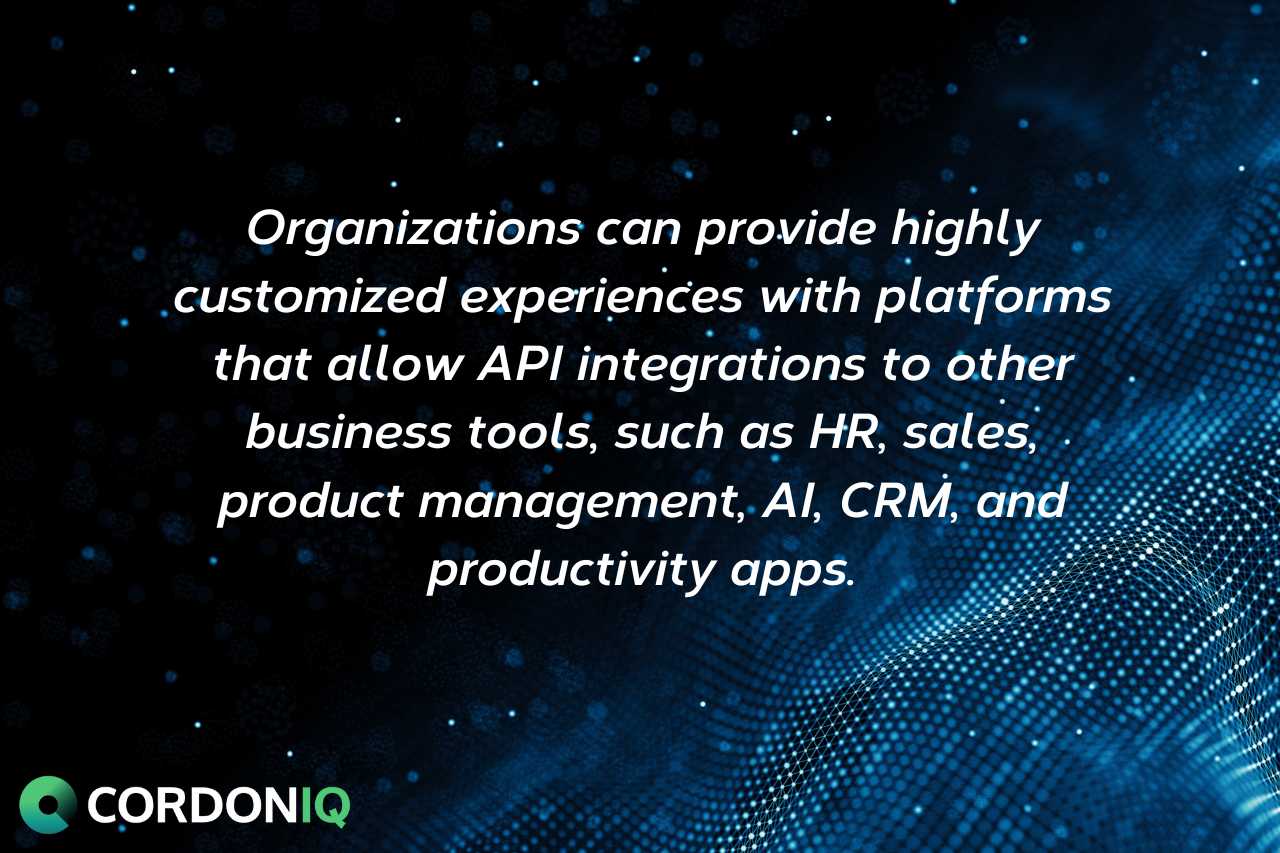 Highly innovative solutions offer features to create customized experiences with less friction. For example, organizations can provide highly customized experiences with platforms that allow API integrations to other business tools, such as HR, sales, product management, AI, CRM, and productivity apps. Other robust features include virtual rooms that can accommodate many types of events, and advanced sharing abilities (e.g., sharing browsers) to allow more immersive collaboration.
What are some examples of web conferencing?
Advanced web conferencing tools allow businesses to provide live, immersive, collaborative experiences for their teams and clients. With integrated video collaboration platforms, enterprise firms can deliver a wide range of experiences and events for employees, clients and partners. 
Here are some examples of web conferencing business use cases:
Business collaboration: this includes conferences, sales presentations, agile standups, events and work collaboration ranging in size from one-on-ones to multiple participants.
Client meetings: video conferencing provides benefits of face-to-face meetings that are more effective than a phone call alone. Some examples include introductory meetings, product demonstrations, proposals, onboarding and kickoffs.
Hiring and onboarding: HR departments can use video conferencing throughout the recruiting, hiring and onboarding processes. With advanced security features, firms can build trust with their employees by ensuring their information is protected. 
Employee training: video conferencing provides access to training, education, certification programs while limiting travel costs and expenses. When video collaboration platforms are integrated with other essential tools such as HR systems and learning management systems, firms can deliver a complete training solution. 
Advantages and Features of the Cordoniq Video Collaboration Platform 
Cordoniq's API-driven video collaboration platform includes a number of advanced features to build a secure and customized solution. 
Advanced features for customization include:
Private branded and private labeled platform, including private iOS and Android apps in both the Apple and Google Play app stores

Chat messaging features for multiple languages, including the ability for users to read right to left (e.g., Arabic, Hebrew, Farsi)

Unique web co-browsing feature allowing teams to easily blend HTML and web applications as a customized and native live collaboration experience

Complete control over meetings, rooms, events, recordings, and content 

Customized security that can go up to and beyond U.S. military-grade level that includes end-to-end encryption

Robust developer tools to allow countless integrations with other business and technology tools

Flexible room options to meet your organization's exact needs, including unlimited rooms option for events of all sizes