Today's organizations must create collaborative and immersive experiences for their users, including both employees and clients. Video conferencing and collaboration software is an important part of this process. Clients and prospects alike are expecting advanced experiences from the companies they interact with. 
Video conferencing and collaboration software is also critical to the success of hybrid work – a key differentiator for the majority of businesses. A recent McKinsey & Company study showed that hybrid work has had a significant impact on organizations and that 90% "have embraced … a range of hybrid work models."
However, not all video conferencing apps are equipped to support more innovative experiences. Organizations must consider which advanced features of video conferencing software can help them create the types of services and experiences they need to optimize the hybrid work environment. 
Let's review the types of video conferencing software and apps that can deliver these experiences. 
Importance of video conferencing and collaboration platforms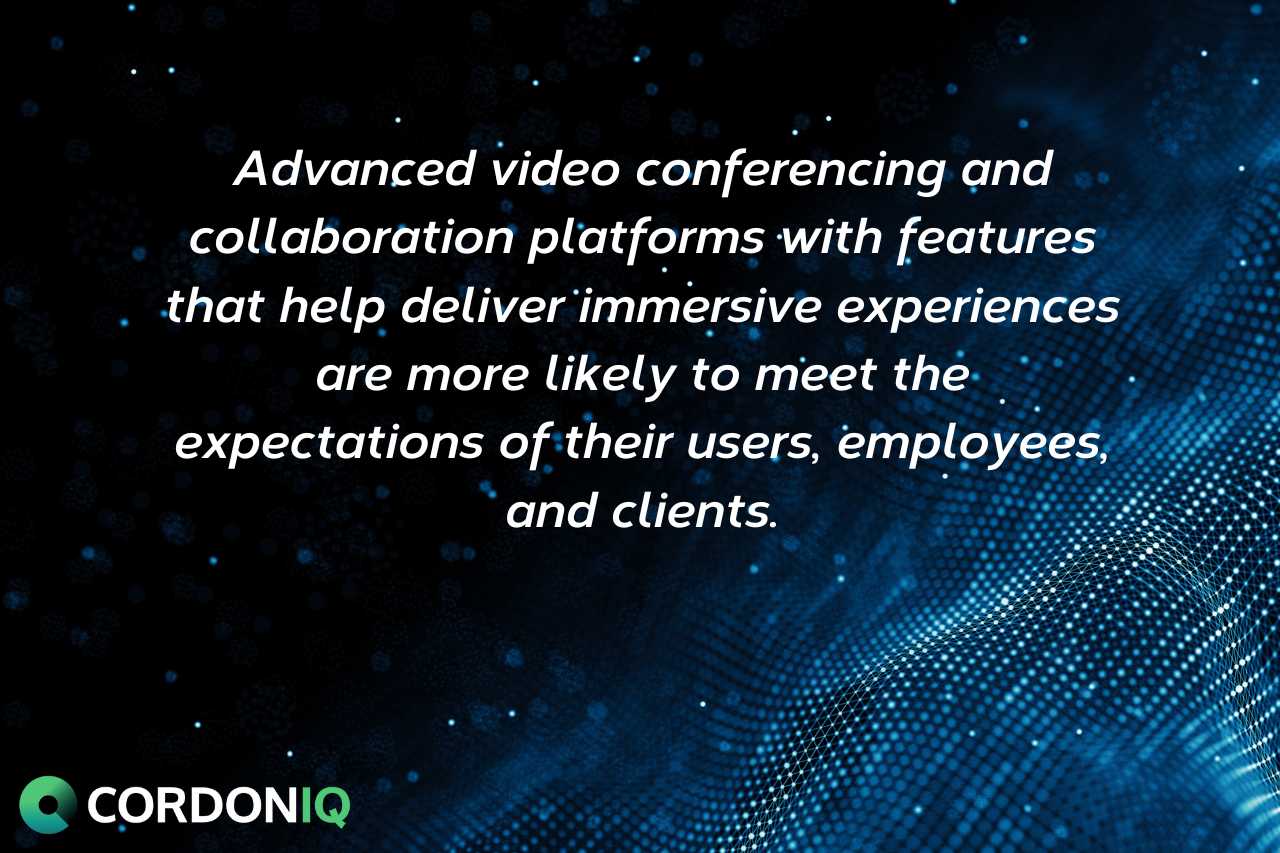 Advanced video conferencing and collaboration platforms with features that help deliver immersive experiences are more likely to meet the expectations of their users, employees, and clients. Immersive experiences are robust and often multi-sensory, providing richer interactions for users no matter where they are located.
Examples of immersive experiences or technologies include:
The ability to experience more video "faces" on the device screen

Improved real-time rendering

Higher quality resolution of media and images

Experiences that involve AI, virtual reality, augmented reality, or combine 2D and 3D 

Interactive experiences that involve the user 
Optimal hybrid work environments are those that support employees by providing convenient and high-quality interactions, access to productivity tools, and the ability to work collaboratively with others in their organization.  Similarly, elevated client experiences should be personalized, convenient and capture qualities of in-person, face-to-face experiences. 
With highly advanced video conferencing and collaboration platforms, organizations can build solutions that offer experiences that are versatile, flexible, and that have less friction for users.
Types of video conferencing apps that support interactive experiences 
What types of video conferencing apps and solutions best support interactive and collaborative experiences? 
Typical, generic, boardroom-style video software overlooks the graphics processing unit (GPU) and only utilizes the components and widgets provided by the operating system (OS). As a result, they aren't able to provide the higher-quality, collaborative experiences needed for optimal hybrid and remote work environments.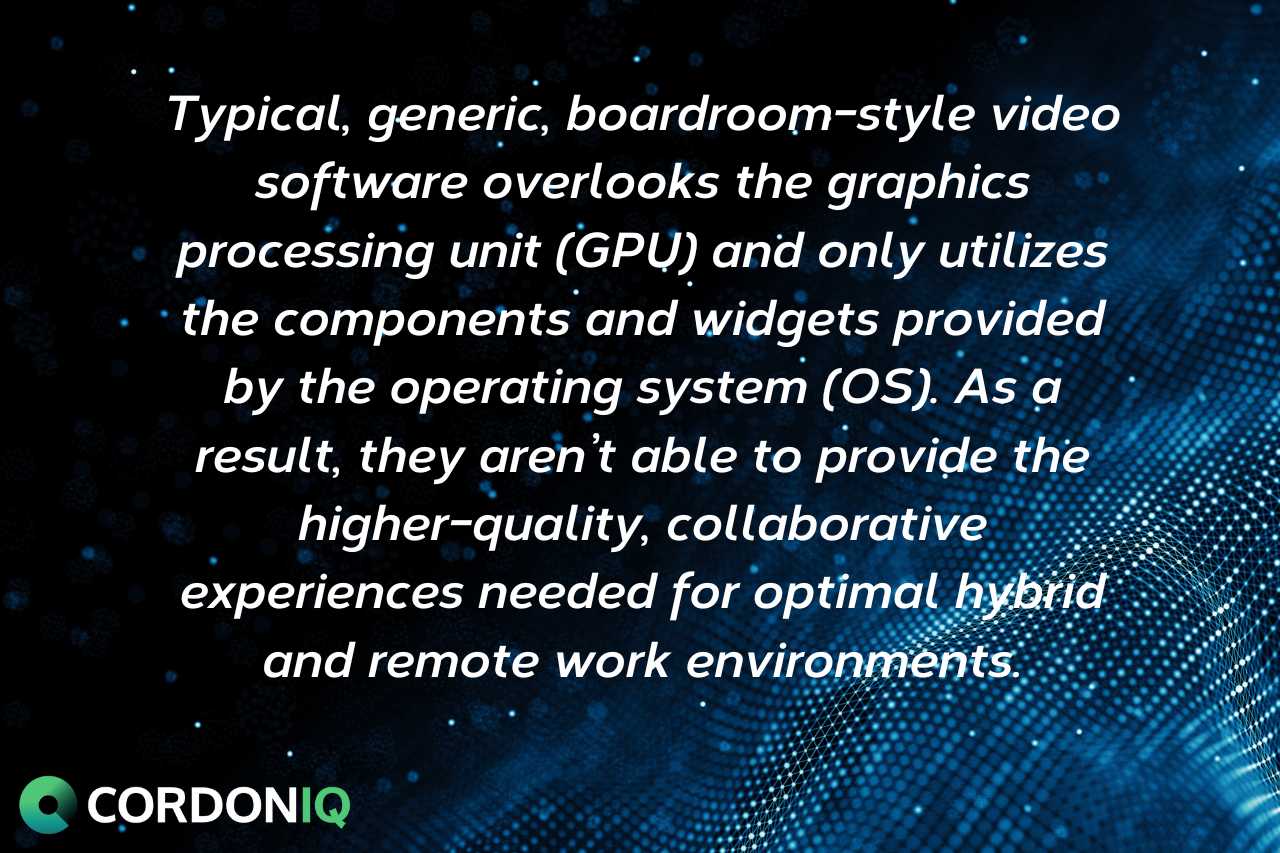 Also, video conferencing and collaboration platforms that are API-based allow organizations to build solutions that can be customized to meet their exact needs.  API-based platforms can be used to integrate business and productivity tools to create a more seamless solution for a better user experience. 
With an API-driven video conferencing and collaboration platform, organizations can also build live, interactive collaborative experiences integrated with their existing service, business logic and workflows. This includes scalable video and audio encoding, screen and web content sharing, and multimedia sharing.
Advantages of video conferencing and collaboration with Cordoniq
Live and immersive experiences are necessary to optimize the hybrid and remote work environment. 
Cordoniq uses a completely different approach to create an optimal collaboration UX by building its stack around video game concepts and gamification.
By leveraging the gamification process, Cordoniq can provide a more robust and immersive user experience with the following features: 
More video 'faces' displayed on the device

Smoother quality of real-time rendering

Higher quality, resolution and FPS

Custom gamification specific to the requirements

Better experience on lower-end and older devices (ex: older Android phones)

More easily integrate other platform concepts (AR, VR, AI)

Blend 2D and 3D visual experiences

GPU capable coding and rendering (Neon, ARM)

SIMD, Neon, SSE and MMX optimizations, Intel and ARM assembly